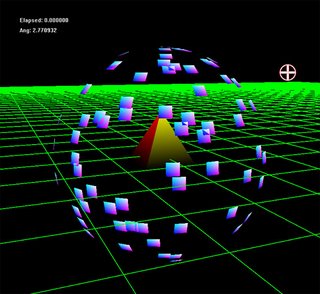 Timer: 01:16:08
Okay not much coding time, HOWEVER bare in mind that timer does not include all the time spent with a piece of paper and pen, along with dusty linear algebra memories. All the time chatting with Rheno and all the time running around the flat screaming.
Collision : One hundred percent complete and debugged. As well as optimized.
Blending : Basic Blend functions implemented into Texture class, good enough till Eye Candy time.
Look into My Eyes : Mostly done, Look Below
As you may or may not notice the loads of planes are oriented to the Rotation they make. Now there are lots of quick and easy ways to do this but I needed a way to build a rotation matrix that was fast and easy. At a later stage in dev complex objects and multiple tier rotation will take place so it needs to be reliable. I was battling with the problem till Rheno popped up on Yahoo and we started geeking onwards. The key was releasing we could use longitude and latitude as our defining vectors, once we managed that it was just some quick number crunch on paper to calculate and optimize the function.
I still need to write the function that spits out the Rotation matrix but its all good from here.
Can you say Koozgad!
When you have a friend who you can drop onto their front doorstep and all they do is say Hello and welcome you in. Friends who small talk and pretense has been disposed of. In fact most normal uses of language have been thrown out the window. Where you say one word or phrase and a million meanings and thoughts of kin enter your minds. They are treasures for sure. Oh well I like having friends like that.
I was running around in the forest this weekend, again. I will post more later today on that. I have much to say. Oh well off to work now.