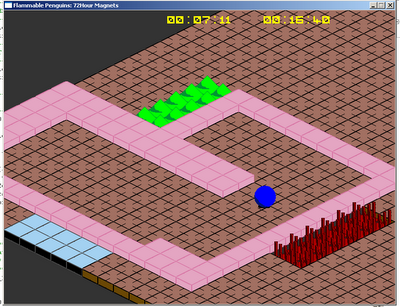 THERE ARE 1 days, 0 hours, 0 minutes, and 59 seconds left!
Considering I'll be at work for 6 of those hours, call it 6 hours sleep..... hmm that leave me with 12 HOURS!!!
What have I done so far, well I've decided 2:1 diamond isometric with a left aligned point is the spawn of Satan and should have never been conceived. Other than that its been pretty productive.
ISO-Ball motion is smooth but buggy
Added Start and End to levels
Added Timer
Added Gold, Bronze, Silver award times.
Added Menu system.
Added High Scores.
Made pause mode editable.
All in all I'm a one woman coding army of destruction!