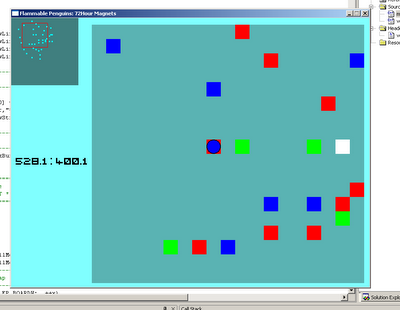 There are only 2 days, 15 hours, 8 minutes, and 16 seconds remaining.
Okay well the Theme is MAGNETS! Which I'm really happy for. I teamed up with Edge he is going to be my artist. I got the theme ran off to Kendo and got back, so I missed the first 5 hours or so of the comp. What do I have running so far.
GUI UP
Draw Scrollable Map
Draw Mini Map
Scroll Map
Relate Mouse to Game Board Pos
Calc Field Equation for any point on board
Full 2D Vector Class
I'm proud of how much I've got done. I'm moving a lot faster than last Ludum Dare. Edge and I are still hankering over a game idea but the framework is good for both ideas. Personally I think the Marble one is a strong idea though. Oh well I need to catch some shut eye so see you all in the morning.