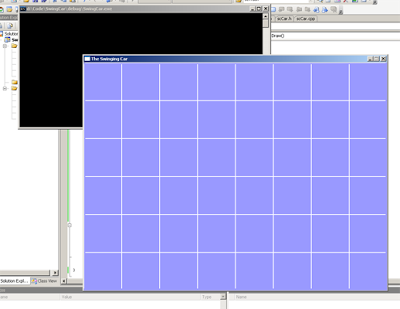 Yes folks 100 posts in the blog! Pity it couldn't be more significant.
I know this screen doesn't look like much but well it is. The sequence of events is as follows.
Get PTK and Chipmunk setup and build framework.
Discover PTK and Chipmunk screw each other over due to the one being compiled /MD and the other /MT
Spend Hours attempt to fix this
FAIL!!!
Try some more with help, reinstall both libraries and tweak
EPIC FAIL!!!
Choose a new platform.... SDL
Realise you haven't used SDL in over 3 years
Go play a bit of Burnout: Paradise
Get SDL working after a few tears
Like a sensible person use OpenGL
Realise you haven't coded in OpenGL in over 2 years.
Cry some more
With the help of X-Out and others revise your knowledge and dig up old projects to refresh memory.
Swear at libaries
Tinker
Get Black Screen... run around in celebration.
Get Lines on Screen
Intersperse that with a thumping headache, and extremly regular breaks to visit the WC (thank you being ill on a long weekend without access to doctor). Not to mention a few self inflicted incidents of head tramau as you punish yourself for a million stupid newbie mistakes.
Oh well now I can get back to the weekend of code.