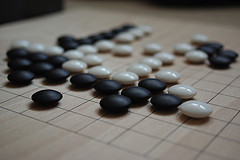 As I currently furiously work on my Data Driven Dialogue system for the end of the month delivery and continue my job hunt with furious speed. There is one other project I desperately want to approach! So as a subscriber to
Brain Crack theory
so I want to get it out there, before I get addicted to it.
Turn based deep strategy games such as my favourite X-Com have really deep systematic strategy. This follows a long history of games like Go, Chess and many other older games. Turn based systems remove time pressure and allow for deep exploration. Not to mention the removal of immediate interrupt and correction bring a deep tension and a wonderful set of game mechanics to the fore.
Casual games tend to be played when it's convenient, the synchronous organised Multiplayer experiences of hardcore gaming have not really taken off in the casual space. While player interaction is key to Social Gaming it tends not to be an active session but instead a series of delayed interactions.
It's easy to think casual gamers have no desire for strategy but possibly we are underestimating them.
So can we merge some of the following
Turn based strategy
Synchronous Actions
Social Networks
Play by Mail
Meta Game
I think the answer is YES and I'm dying to try bring a team based tactical turn based game to the space, if I get any free time soon.
Great Examples
We are already starting to do it, isn't that great. All those games have the building blocks we need and have proven them to work.
Also did anyone else get pulled into those mid 90s web page based limited action per (day / week) massive strategy games???